LAST ANNOUNCEMENT
Soil Science Conference
of Malaysia 2005
(SOILS 2005)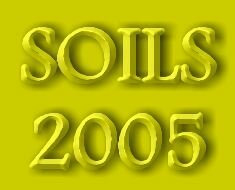 Conference
Sg. Petani, Kedah
12-13 Apr. 2005
Post-conference tour
Kedah
14 Apr. 2005
Organised by
MSSS & UiTM
Registration
---
Registration fee
| | |
| --- | --- |
| MSSS Member | RM 450 |
| Non-MSSS Member | RM 500 |
| Student | RM 150 |
RM 3.80 is approx. USD 1.
The registration fee includes the conference materials, lunch and refreshments only. Additional payment will be required for those requiring hotel accommodation, the post-conference tour, to exhibit the products and/or scientific equipments.
All payments should be made in the form of a crossed cheque or money order payable to the: "Malaysian Society of Soil Science".
Registration form
You can download the following form and send it to us by fax, mail or email:

Please download and fill up the above form (prepared in MS Word), and mail it, with payment, directly to:

SOILS 2005 Secretariat
Beg Berkunci 254
43409 UPM Serdang
Selangor, MALAYSIA

Tel: 03-8946 7252
Fax: 03-8943 4419

Email:
[email protected]


Contributions by email attachments are recommended.
Further information:

SOILS 2005 Organising Chairman
Universiti Teknologi MARA
50450 Shah Alam
Selangor, MALAYSIA