Forum on "Open-Field Burning In Malaysian Rice Paddies"
Jointly organized by Malaysian Society of Soil Science (MSSS) and Faculty of Agriculture, Universiti Putra Malaysia (UPM)
Date: June 11, 2004 (Friday)
Time: 8.30 a.m.
Venue: Dewan Fakulti Pertanian, Universiti Putra Malaysia , Serdang, Selangor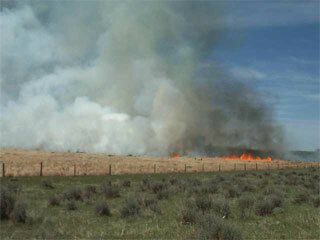 Background
Open-field burning, sometimes termed as thermal residue management, is an old practice in rice paddies. At present, this method is the fastest, cheapest and most effective solution to residue (primarily rice straw) disposal. To the average rice farmer, fire is a multipurpose tool that destroys pathogens and weeds that may reside in topsoil and vegetation as well as loosens soil and prepares it for planting almost immediately. Fire also turns biomass into ash, a cheap source of fertilizer. However, in reality, these proven benefits are outweighed by the environmental hazards imposed by open-field burning which characteristically leads to smoke pollution.
In January this year, open-field burning of rice straw was singled out as the principal cause of thick smog along the North-South Expressway (NSE) between Alor Setar and Gurun in Kedah. The thick smog was reported to have severely obscured visibility causing massive road chaos, involving a 21-vehicle pile up, at the 59 th kilometre of the NSE. In the neighboring state of Perlis, open-field burning of rice straw and husk almost destroyed 20 nearby village homes. Similar incidents were reported in July of 1999 and January of 1998. The recent catastrophe has given the Malaysian agricultural community a wake-up call. Yes, we do have a problem at hand and something needs to be done to alleviate this problem.
This forum offers an excellent platform for a critical appraisal of the problem and exchange of ideas leading to a cohesive action plan.
Forum Objectives
To create public awareness on the problem of open-field burning in rice paddies
To assess the problem and propose a suitable mitigation plan
Panel Discussion Moderator
Dr. Zulkifli Hj. Shamsuddin
Professor of Soil Science, Department of Land Management, UPM; MSSS Immediate Past President
Panelists
Dato' Hj. Abdul Rahim Saleh
General Manager, Muda Agricultural Development Authority (MADA)
Dato' Embi Yusoff
Deputy Director General, Malaysian Agricultural Research and Development Institute (MARDI)
En. Abdul Halim Hamid
Senior Manager (Quality Assurance), North South Highway Project (PLUS)
Dr. Hasnah Md. Jais
Lecturer, School of Biological Sciences, Universiti Sains Malaysia
Dr. Syed Omar Syed Rastan
Associate Professor, Department of Land Management, UPM
Who Should Attend?
Decision makers from government and non-government agricultural agencies/institutes
Crop and soil scientists
Technology transfer experts
Agricultural engineers
Environmental management experts
Quality assurance managers
Agro-based entrepreneurs
Administrators of agricultural development projects
Rice farmers
Graduate students and research assistants
Concerned parties
Program
0830: Arrival of guests

0900: Doa Selamat recital

0905: Welcome address (Organizing Committee Chairman)

0915: Speech by MSSS President

0925: Opening remarks and introduction of panel members (Moderator)

0935: Panel discussion

1035: Question and answer session

1105: Summary and concluding remarks (Moderator)

1115: Refreshment
Organizing Committee
Advisor:
Assoc. Prof. Dr. Anuar Abd. Rahim (UPM; MSSS)
Chairman:
Dr. Siva K. Balasundram (UPM; MSSS)
Secretary:
En. Isharudin Md. Isa (UPM; MSSS)
Members:
Cik Faridah Ahmad (Department of Agriculture; MSSS)
Tn. Hj. Abdul Rahman Abu Bakar (MARDI)
En. Mohd. Fuzi Shariff (UPM; MSSS)
For further information, contact:
Dr. Siva K. Balasundram
E-mail:
Cell: 019 240 7371
Tel: 03 8946 4186
Fax: 03 8946 4146
or
Isharudin Md. Isa
E-mail:
Cell: 017 397 2551
Tel: 03 8946 6971
Fax: 03 8943 4419